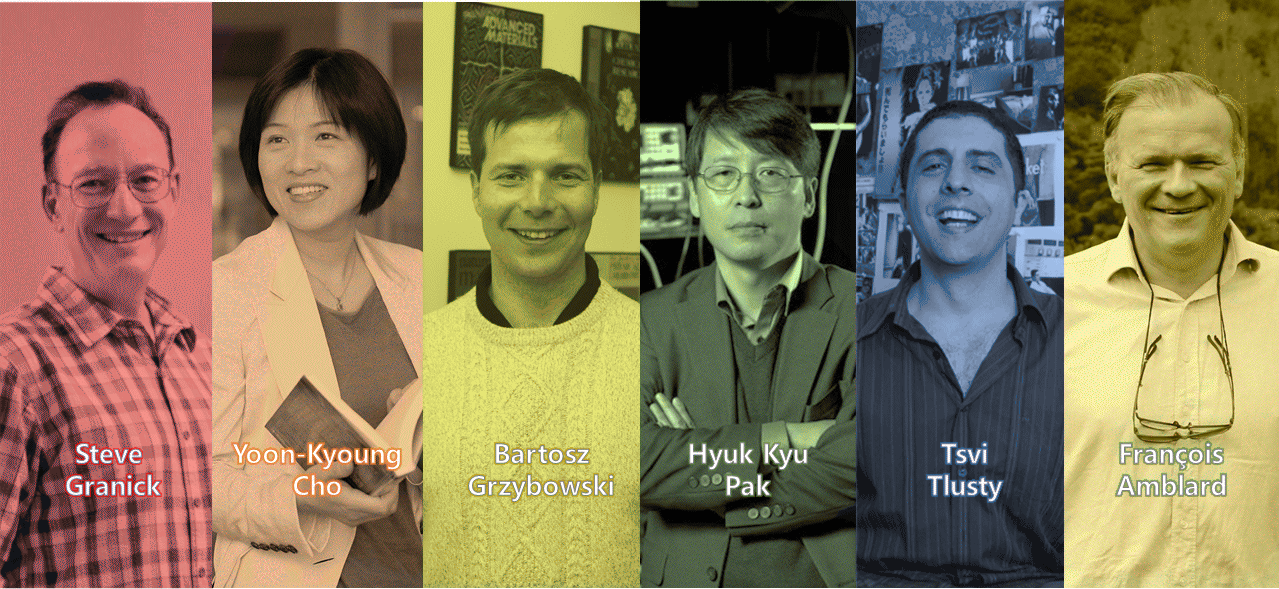 학부 연구생 모집
선발된 학생들은 IBS 첨단연성물질연구단에서 개인맞춤형 암 진단 및 치료를 위한 랩온어칩 연구 또는 세포간 커뮤니케이션 이해를 위한 새로운 바이오칩 연구를 진행하게 됩니다.
​
*프로젝트 예시
- 세포외소포체 바이오마커 분석을 통한 암의 진단 및 예후 예측 기술 개발
- 인공지능 기반 단일 세포/세포외소포체 분석 기술 개발
- 미세유체칩 기반 암세포 성장 및 전이 기전 연구
- 물리적인 미세환경이 세포성장 및 동적거동에 미치는 영향에 관한 연구
​​
​​
- 학부 3학년 이상 (특별한 경우, 학부 1, 2학년도 참여 가능)
- 화학공학, 화학, 물리, 생명과학, 생명공학, 재료공학 기계공학, 전자공학, 전산 등 관련 분야 전공자로서 새로운 나노바이오 융합 연구에 관심이 있는 분
- 도전 정신과 열정을 기반으로 본 연구실 연구 주제에 몰입하여 연구해 보고자 하는 분
수강한 과목 목록을 포함한 CV 및 personal statement를 로 보내주세요.
​
​
​
- 학부 연구생은 소정의 연구장학금 지급 예정
- 랩 홈페이지 : http://fruits.unist.ac.kr/
- IBS CSLM 홈페이지: https://www.ibs.re.kr/softmatt/
Research Internship at FRUITS Lab
NanoBio Lab (PI: Prof. Yoon-Kyoung Cho, Biomedical Engineering) is currently recruiting undergraduate students for winter internship at IBS CSLM (Center for Soft and Living Matter). The students will work on research projects regarding Lab-on-a-chip for personalized medicine for cancer theragnosis or Microfluidic chips for the understanding cell to cell communication.
Research topics including but not limited to
EVs-based cancer diagnostics and prognosis

AI-Powered analysis of single cells/EVs

Novel microfluidic tools to understand cancer metastasis

Cell phenotype and migration upon in-vivo like physical microenvironment
Vacancies: 1-2 positions per project

Term:
Always on

Students who are able to conduct research for over 2 semesters, including vacations are preferred.

The schedule is negotiable.
Junior or senior undergraduate students from all disciplines. (Freshman or sophomore is possible if they have the appropriate background)

Self-motivated individuals with a willingness to learn and passion about the research topic are welcome to apply
Applications or Inquiries
Please send your CV including a list of courses taken & personal statement to
- Undergraduate research students will receive research scholarship.
- Lab website: http://fruits.unist.ac.kr/
- IBS CSLM: https://www.ibs.re.kr/softmatt/
Postdoctoral Researcher /Research Fellow
Department of Biomedical Engineering, Ulsan National Institute of Science and Technology (UNIST),
Center for Soft and Living Matter, Institute for Basic Science (IBS)
Ulsan, Republic of Korea
Yoon-Kyoung Cho's group (http://fruits.unist.ac.kr/) is seeking highly-motivated postdoctoral research fellows to join an interdisciplinary project focused on Systems Analysis of Cellular Communication. The successful candidates will have expertise including one of the following, but not limited to Micro-/Nanofluidics, Micro-/Nanofabrication, Surface Chemistry, Immunology, Cancer Biology, Molecular Biology, Biophysics, optical imaging, automation, data analysis, and programming etc. The fellow must have completed a Ph.D. in biology, physics, bioengineering, chemistry, chemical engineering, mechanical engineering, electrical engineering or a related discipline, with a proven capacity for world-class research that is reflected in a publication record. He or she will carry out cutting-edge research to understand the physics of and communication between cancer cells or other biological cells utilizing precise tools such as microfluidic platforms, single-cell manipulation, and molecular analysis.
The fellow will be supervised by Prof. Yoon-Kyoung Cho (http://fruits.unist.ac.kr/) and will work together with a world-class team of researchers across a broad range of scientific disciplines in the Center for Soft and Living Matter, Institute for Basic Science (IBS). Applicants must have not only excellent technical and communication skills but also able to work independently and proactively. The project is highly interdisciplinary and the candidates will have a great opportunity to work together with world-renowned leaders in various fields including chemistry, soft matter physics, biology, optics, and medical doctors.
Interested applicants should send a cover letter, a full CV, links to three most important and relevant publications, and arrange to have at least three letters of recommendation sent directly from references via email to Prof. Yoon-Kyoung Cho (ykcho@unist.ac.kr). We have multiple positions immediately available and the first contract will be for two years and can be extended. If you are curious about how to live in Korea as a foreigner, please visit here. We can also offer an alternative military service option working as a technical Research Personnel for Korean male candidates. If you have further questions, contact Prof. Yoon-Kyoung Cho (ykcho@unist.ac.kr).
-------
We are also currently recruiting undergraduate interns, graduate students, researchers, and post doctors.
Please contact us if you are interested to become the new member of FRUITS Lab.
• Anyone with strong interests and passion in our research topics is welcomed to apply: The relevant major include but not limited to Chemical Engineering, Chemistry, Physics, Biology, Biomedical Engineering, Material Science, Mechanical Engineering, and Electrical Engineering.