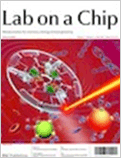 [17] Electrophoresis, 30, 3153–3159 (2009)
We report an insulator-based (or, electrodeless) dielectrophoresis utilizing microfabricated plastic membranes.
[16] Lab Chip, 9, 1548-1555 (2009)
We report a disc-based and fully automated microfluidic enzyme-linked immuno-sorbent assay (ELISA) system for the quantification of proteins from whole blood.
[15] Lab Chip, 7, 565-573 (2007)
We report a fully integrated, pathogen-specific DNA extraction CD platform utilizing innovative laser irradiated ferrowax microvalves (LIFM) and the rapid cell lysis method using target separation and laser-irradiated magnetic bead system (TS-LIMBS).
[14] Lab Chip, 7, 557-564, (2007)
We report a novel phase change based microvalve for rapid and versatile operation of multiple microvalves using nanoheaters, 10 nm-sized iron oxide nanoparticles dispersed in paraffin wax, and laser irradiation.
[13] Colloids and Surfaces A: Physicochem. Eng. Aspects, 294, 228-235 (2006)
[12] Microsystem Technologies, 12, 238-246 (2006)
[11] Biosensors and Bioelectronics, 21, 2161-2169, (2006)
[10] Lab Chip, 8, 845-850, (2005)
[09] J. Micromech. Microeng. 15(3), 455-462 (2005)
[08] Journal of Colloid Interface and Science, 278, 44-52 (2004 )
[07] J. Chemical Physics, 119,1,547-554 (2003)
[06] Langmuir, 17, 7732-7734 (2001)
[05] J. Chem. Phys, 110, 9688-9696 (1999)
[04] J. of Polymer Science: Part B: Polymer Physics, 35, 2961-2968 (1997)
[03] Tribology Intl., 30, 12, 889-894 (1997)
[02] Wear, 200, 346-352 (1996)
[01] J. Membrane Science, 104, 3, 219-230 (1995)
Please reload